FUNCTIONS & EVENTS
The Twilight Ride     
9th October 2021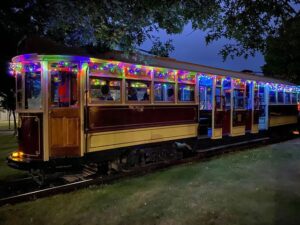 The Launceston Tramway Museum is pleased to announce that we are organizing an special ride event on the 2nd weeks of October. Read more..
Abandoned Dances, M.A.D.E, Junction Arts Festival 2015, image: Joanne Faulkner, Photo Mob
Launceston Tramway Museum provides a whimsical setting for all your entertainment needs. Our flexible hours and enthusiastic staff make the museum a perfect venue to host a cocktail hour or breakout activity between conference sessions. The trams also create a unique and picturesque backdrop for the special occasions in life, including birthday parties and wedding photos.
The Tramway Museum has previously hosted a number of different events, including a Junction Arts Festival item, Abandoned Dances. Another exciting event being hosted by The Launceston Tramway Museum is Next Stop! - an open mic held on the last Sunday of every month that welcomes performers from all walks of life. The museum has proven to be a vibrant venue in the city of Launceston and will continue to accommodate and intrigue those that journey through.
For more information or to make a booking, please see the contact details on the contact page.
THE SALISBURY ROLLER STEAMS INTO SERVICE FOR THE
                                         TRAMS AGAIN
The Launceston Tramway Museum was delighted to have the Salisbury Steam Roller visiting from Redwater Creek, Sheffield, for the summer.
The Salisbury Steam Roller was built in Launceston in 1910 for the Launceston Municipal Council, and was used to lay the tracks for the trams that roamed the city from 1911 – 1952. In 1953 it again rolled into service, to seal over those same tram tracks.
The Launceston Tramway Museum includes the original tram workshop, where volunteers still actively restore trams. The workshop housed the Salisbury Steam Roller until early March 2016. Over the summer the roller steamed into service to relay tram tracks in the Inveresk Precinct, before returning to Redwater Creek for SteamFest 2016.

TOURS & GROUP BOOKINGS
The Launceston Tramway Museum provides an exciting opportunity to journey through the city's history and see the impact the tram service had on the daily lives of the people of Launceston. With unique and flexible tours we are able to accommodate groups of all ages and sizes, including wheel chair access to Tram 29 and both fun and educational outings for school groups. The Tramway Museum is more than qualified to entertain and enlighten groups of any nature and will work with you to ensure that your visit is a memorable one.
For further information, or to make a booking, please see our contact details on the contact page.